Resolve A Small Dining Room Issue And How To Optimize Them
Do you want to know how to maximize your small dining room space?
What are the most common challenges in designing small dining areas and effectively resolving and maximizing a small dining room space?  
Below I will try to describe the easy way in how to fix small dining room issues.
Maximize Dining Space in Tiny Apartment
If you have a tiny apartment or studio space, you're dealing with, and you're most likely looking to see at least one to two people minimum.
 If you live alone, you'll need that additional seats for guests.
What can I do to maximize a small dining room space?
The best location for a dining table is to find an empty wall and flank, one end of the table up against it has three edges left to play with, which means you can see at least three more people against it on the small table.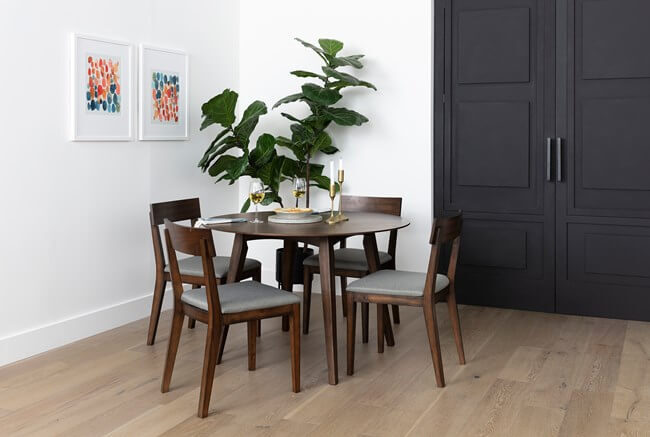 If you have a window with a nice view,
flanked by the square or rectangular table against the window, you can enjoy the view.
Hide the radiator, and free up more clearance for passageways. It's a win-win all around.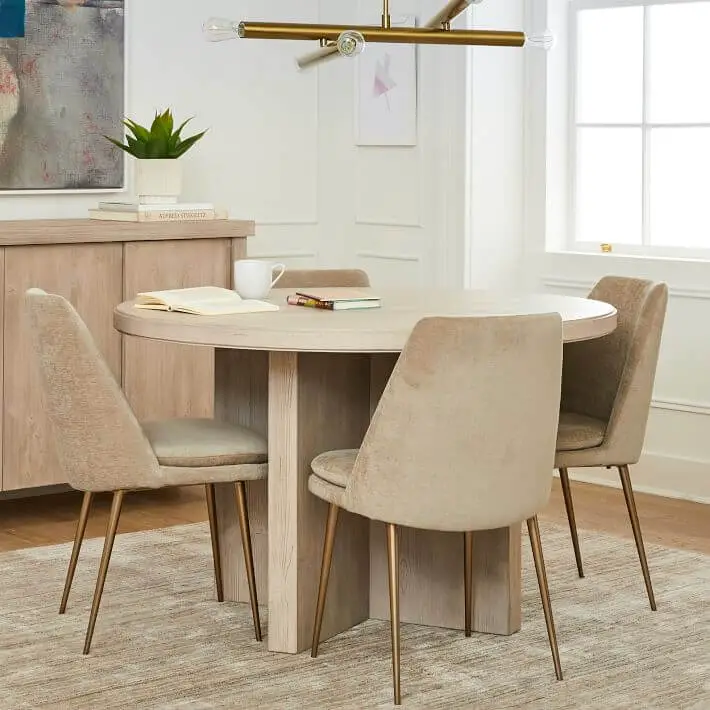 If you only have a tiny corner with a passageway next to it,
source a small table or custom make an L-shaped bench to fit squarely in the space.
If the corner is teeny tiny with two adjacent walls, you can source a white table, so it disappears into your white walls and clear chairs that look almost invisible in the space.
Dining room issue in Small, Square Space
What if you have a small square room to work with for your dining area.
The first step is to measure the room, the length, the width times the height.
Then subtract the clearances. A 36-inch aisle for a walkway or passage is pretty typical.
I share that information in the top dining room design mistakes.
However, if you have a smaller space, tiny home, a small apartment 30-inch clearance can work source, the room's shape best supports a dining table shape.
A square or round table works best if the shape of the dining room is square.
If the shape of the room is a rectangle, source a rectangle or an oval table.
The best round tables for small dining areas are leggy or a pedestal type with one single table base.
Glass tabletops and surfaces are great for dining tables since they reflect a lot of light, either from artificial light or natural daylight that streams through your space.
If you have a smaller diamond table, Always look to source identical chairs.
The repetition of styles and shapes will make the dining chairs appear as if they're one unit.
If you have six or more chairs, think clearly.
Your dining area isn't all that small source armless side chairs to fit more people around the table.
Do you have room for a console or a buffet?
 Why not create a great focal point for your dining room.
Styling Narrow Dining Room In tiny Space
Suppose you have a narrow dining grill.
The biggest issue is that you don't have that clearance for passageways,
after you subtract the 36 inches on both sides so that the dining chairs can easily pullout from the table and still have ample room to walk around,
you might not even have enough space left for a table.
You might even only have 18 inches or 24 inches left.
The best solution for a narrow dining room is to source a built-in bench banquette or slim bench.
When would you specify this built-in banquette is perfect when you don't have the clearance for walkways.
When the back of the banquette is pushed up against the wall, you just saved yourself 36 inches of clearance space.
source a banquette when you have a tiny corner with a passage to a hallway or a door next to it.
You would also source A banquette when you have a long and narrow room.
I love built-in banquettes if you have Windows with a niche or a beautiful window view that you want to take full advantage of.
If you don't want to go the custom route, you can also source a slim bench Asettee or even a smaller sofa anchored against the wall or a corner.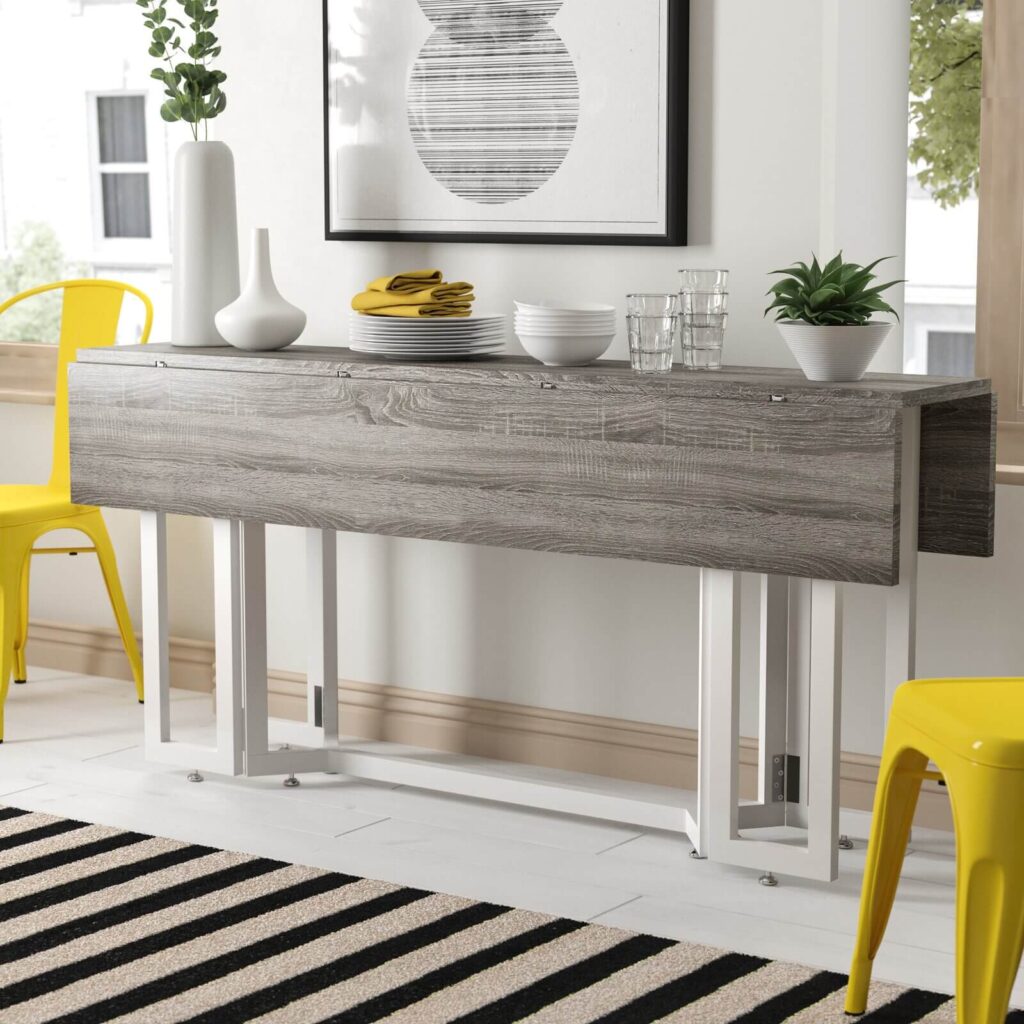 Styling Table in Eat-In Kitchen/No Dining Room
If you're a small space with a separate dining room, you have an eat-in kitchen instead.
Here are some solutions.
If you have an empty wall, try a single-leaf tabletop with a simple leg for support.
If you can fit in a four-top table, make it feel more spacious with a round table instead of a square or a rectangle, no sharp edges, allow you to walk freely around the kitchen.
If you have a small corner, take advantage of the space with a custom bench.
I love this idea to incorporate the dining table into a cantilevered ledge or even above a waterfall Island.
The best designs feel well thought out and fully integrated into the design of the kitchen.
Open Plan Dining Area
What if you have an open-plan dining room that is in between the kitchen and the living area?
You always want to measure the space you have a lot in and check for the 36-inch minimum clearance.
You need around the perimeter 30 inches will do now that you understand the 36-inch minimum rule.
Make sure you optimize the views source round tables so chairs can be placed in any direction.
If you have a square table, you're forced to put a chair right in front of each edge.
Round tables are easier to maneuver and walk around.
If your open-plan dining space is a part of an eat-in kitchen, one edge of the table could be flanked against the wall.
You can still see at least five people, and it opens up the walkway behind the fifth chair for passage into the adjacent living room.
Get inspired by the small dining spaces and create something custom to fit your lifestyle aesthetic and needs.
Remember that the function of the dining room is paramount to its success.
So the table size, the table shape, and the number of people that can fit around it is something that you should think about from the get-go.
If your dining area works as a mixture of work from a home office, definitely check out my top design mistakes for the dining room.