10 Elements For Furnishing Small Apartment
Furnish your small apartment is all about pieces that work overtime in your small space. Consider the elements that you already have in your home, ask yourself this question.
How else can these elements be used if it serves double duty or even triple duty; it's a keeper?
I love using familiar pieces in new ways that might not be so obvious at first.
𝐏𝐞𝐭𝐢𝐭𝐞 𝐒𝐞𝐜𝐭𝐢𝐨𝐧𝐚𝐥/𝐒𝐥𝐞𝐞𝐩𝐞𝐫 𝐒𝐨𝐟𝐚
Let's start with the most critical piece. It would be best if you furnished your small apartment, it's the correct scale sofa.
Sometimes your small living room won't allow for additional seating or accent chairs, so the sofa is it. You are only as good as your measurements.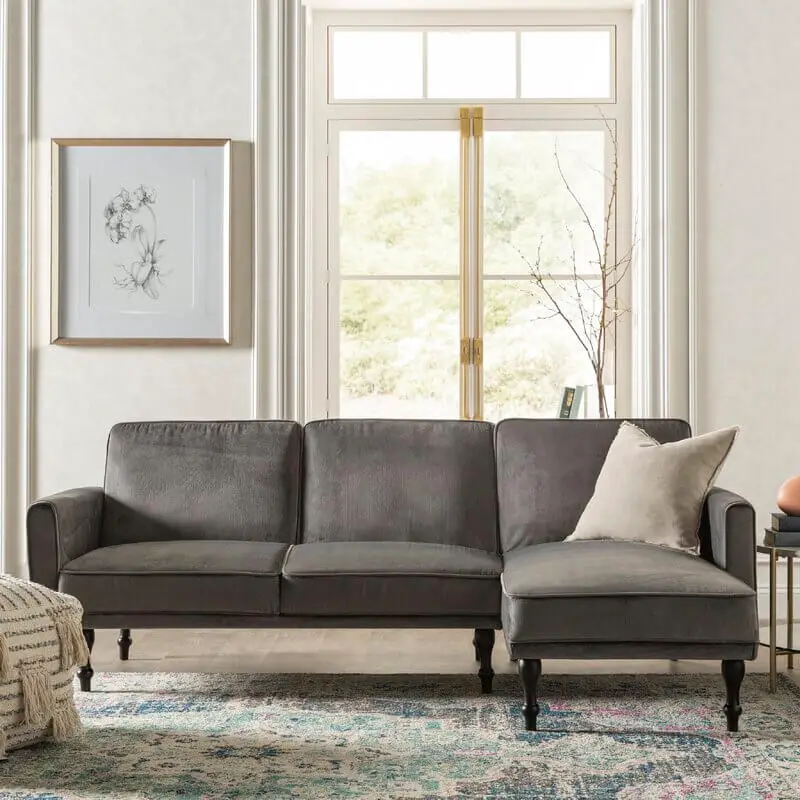 So always start by measuring the space you have allotted for the seating group.
I will assume that since you have a small space, you'll be pushing this main sofa up against a wall. So max out that wall width to get the largest sofa or loveseat you can fit in the space,
a source of petite sectional to gain more seating, or even a sleeper sofa that doubles as your bed in teeny areas.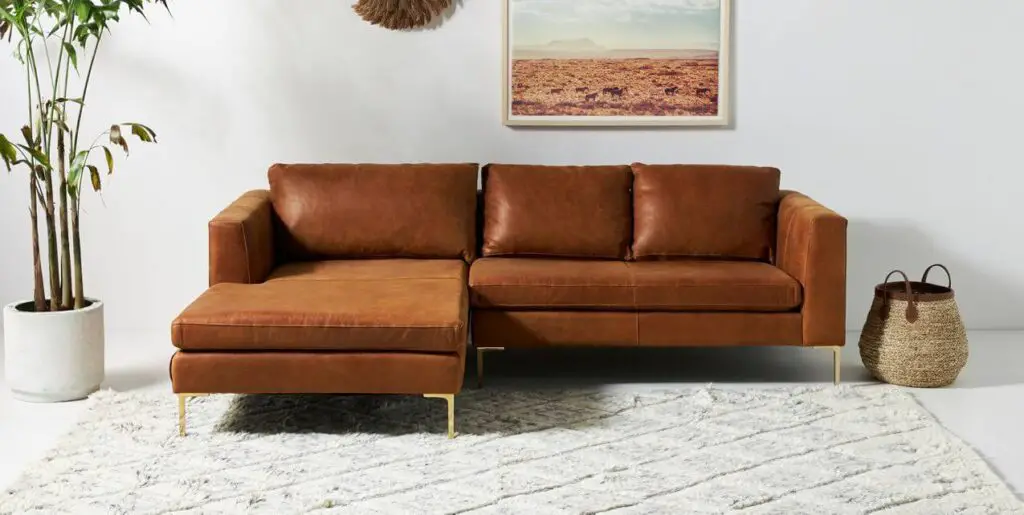 It's handy for guests that crash through the night; whatever you pick, make this investment and choose a sofa upholstered in the most luxurious fabric that fits your budget and your aesthetic.
Your sofa is a showpiece of your small space, So do your research and buy what you love.
Daybed
If your sofa takes up too much space in the living room, consider a Day bed instead if you're only designing the apartment for yourself.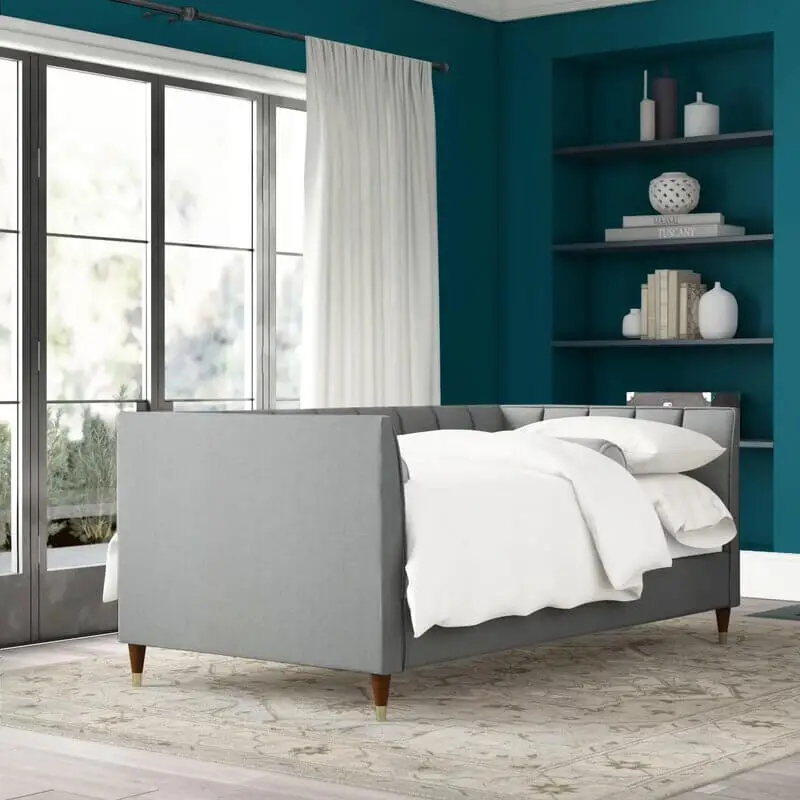 Don't force yourself to buy a sofa.
A day bed will free up more floor space and allow you to play with different living room looks. There's no hard-set rule that says every seating group has to start with a three-seater sofa.
Try a low-day bed that doubles as a guest bed, Or even the main bed you sleep on.
𝐒𝐰𝐢𝐯𝐞𝐥 𝐂𝐡𝐚𝐢𝐫
If space allows in your living room, source a swivel chair as your accent piece; the smaller footprint allows for optimum angles.
No matter how you swivel, engage with the living area and dining room with a simple term.
When it comes to seating, select pieces for their primary function first and those with dynamic purpose, so the space feels cozy and intelligent.
Play with shapes, colors, and tactile fabrics that enhance the style of the room and the story of your space.
𝐒𝐥𝐢𝐦 𝐁𝐚𝐧𝐪𝐮𝐞𝐭𝐭𝐞/𝐁𝐞𝐧𝐜𝐡
Moving on to the dining area and lots of sources, a slim bench or a small banquette that's flanked right up against the walls, you may not have the optimum square footage for chairs scattered around a dining table. So experiment with a slim banquette or bench instead.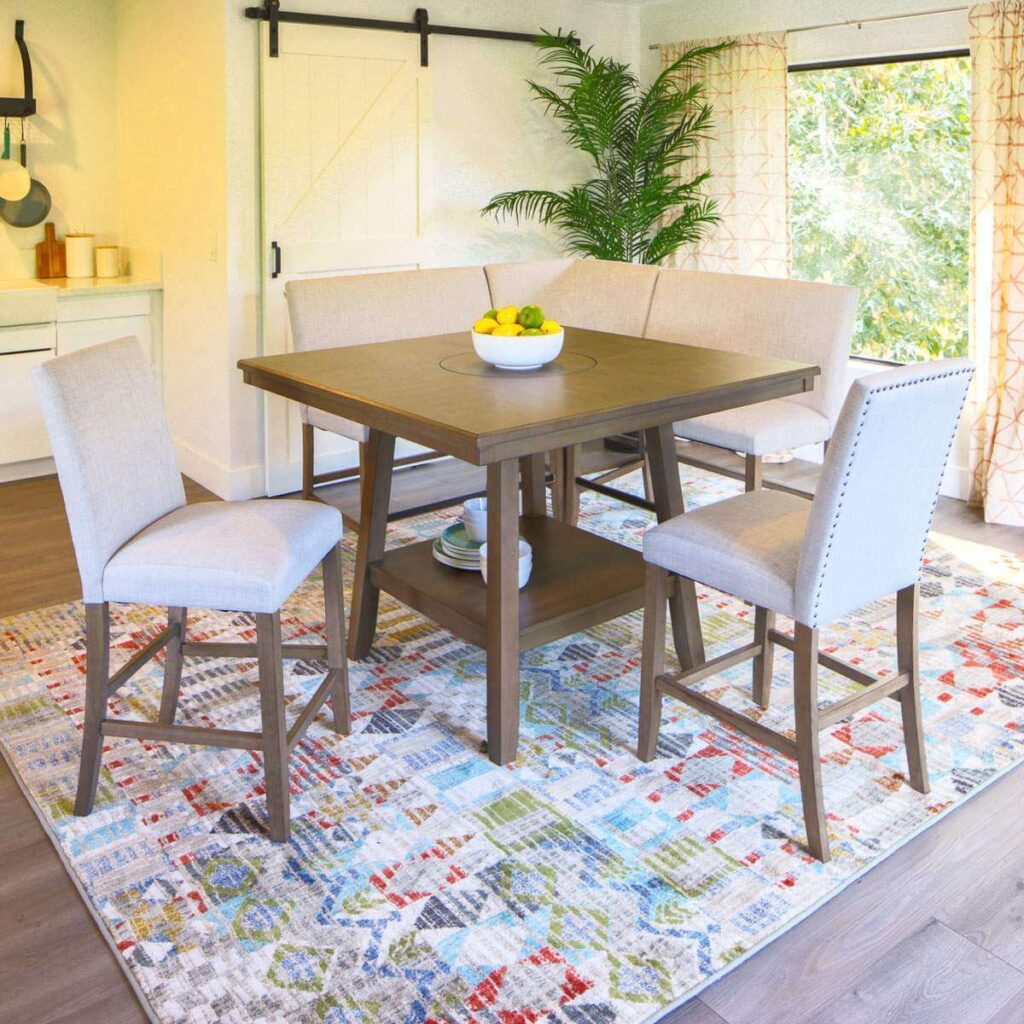 If you don't have the 36-inch minimum clearance, pull all your chairs out without hitting the walls, and this is the perfect spot for a banquette.
Bonus points if you use this seating and table to work at, you can stretch your legs out for a bit or even sit cross-legged for a more relaxed lounge and position.
𝐑𝐨𝐮𝐧𝐝 𝐃𝐢𝐧𝐢𝐧𝐠 𝐓𝐚𝐛𝐥𝐞
While we're still in the dining area, let's talk about the dining table, sores around a table, versus a square one, a round table has no sharp corners, and they're easy to walk around.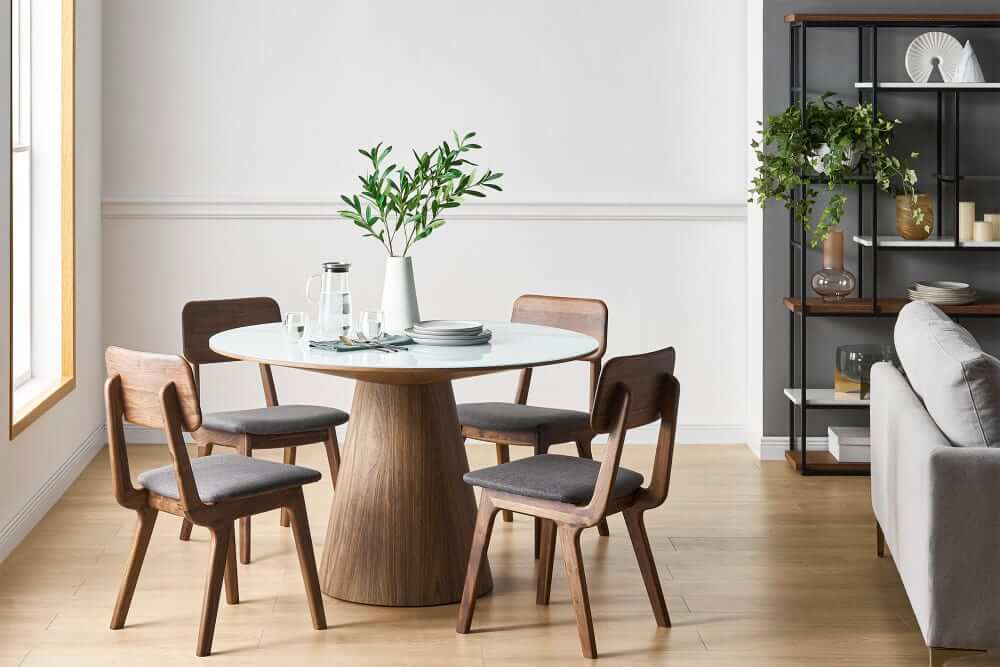 You can theoretically see one more person at a round table, and then you can use a square one.
If you ever host guests, roundtables are the perfect solution to get more guests seated around the table.
Console Table
The console table is a perfect furniture piece to flick up against the wall and create a stunning focal point. It can also serve as an entry table for a valet station and can even be used to showcase curated decorative pieces that show off your style. The trick is to source a console according to your needs.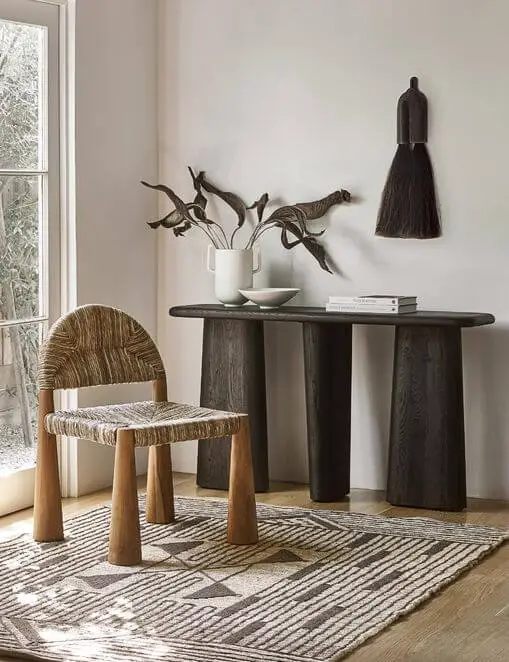 Consoles with cabinets and drawers underneath, add extra storage costs holes that are open and allow you to put additional storage automates underneath and pull them out when you require extra seating.
𝐖𝐚𝐥𝐥 𝐒𝐜𝐨𝐧𝐜𝐞𝐬 𝐚𝐧𝐝 𝐏𝐞𝐧𝐝𝐚𝐧𝐭 𝐋𝐢𝐠𝐡𝐭
Wall sconces and Pendant Lights add extra brightness to the room without taking up valuable floor space; it makes the area feel more comprehensive look cozier and adds much-needed style to help define each zone.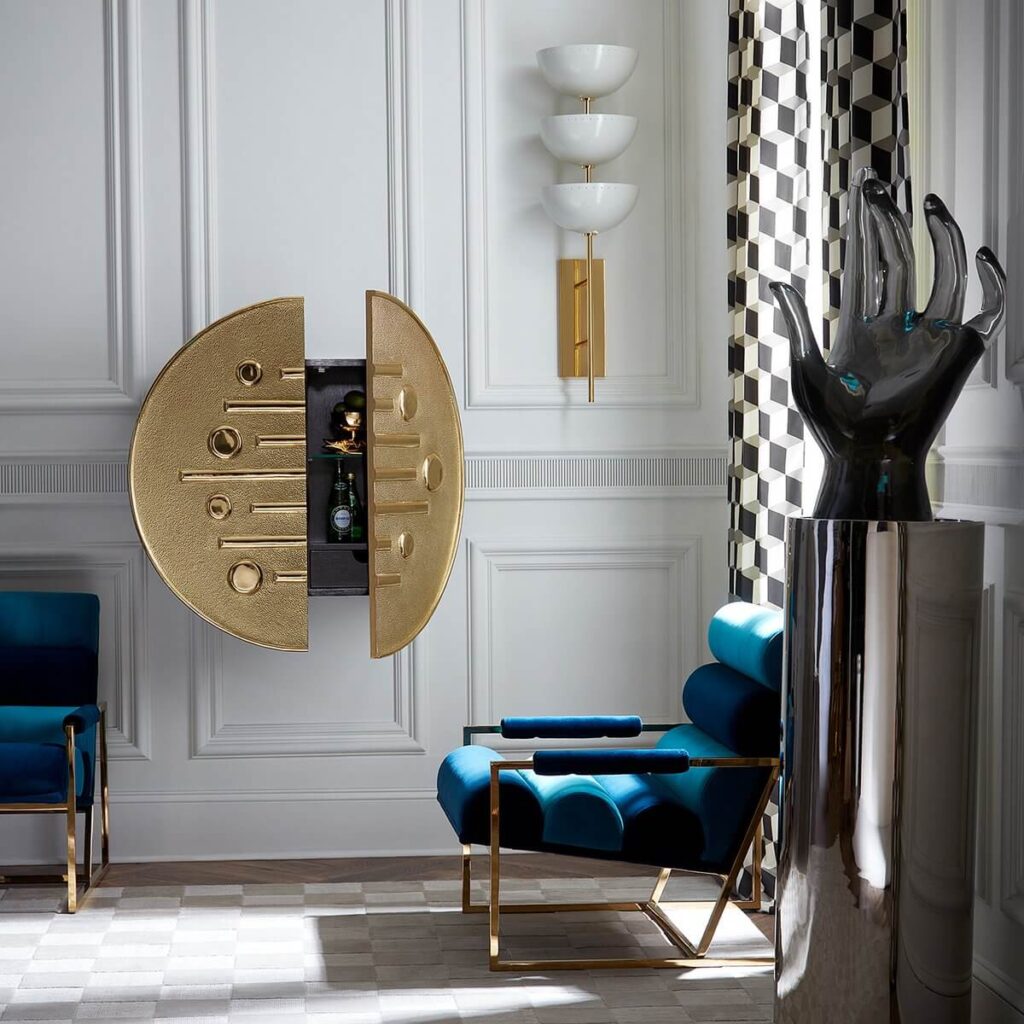 If you've seen my apartment hacks video rental friendly tips to help you upgrade your small space, you can cross-reference my lighting tips to help layer more light to your apartment
Mirror
Mirrors are a must-have in every small space.
Keep the mirrors lean on the floor, or you can mount them on the wall.
Mirrors bring the impression of a larger area, and bonus points when it reflects beautiful landscape to get more of the outside in, framed mirrors can easily double as wall art as it's one of my favorite ways to make a small space look larger.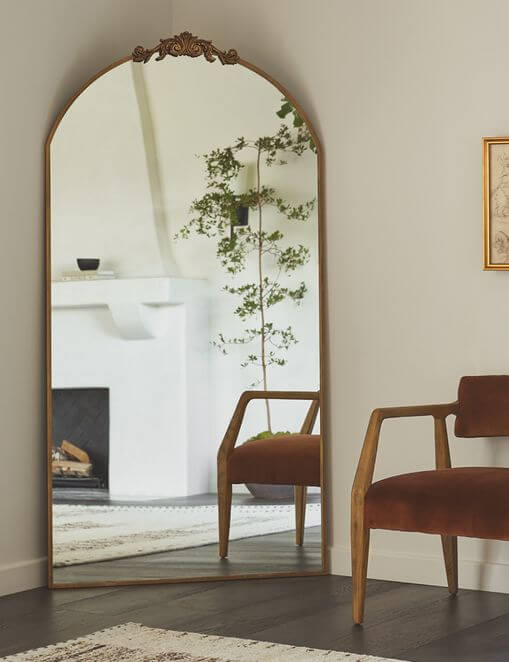 I mean, what's not to love about mirrors? It's equal parts, stylish and functional, instantly amplifying light and doubling the visual impact of everything that reflects.
I'd love to add drama with a mirror mounted over a console table, but remember that if you follow functionary guides.
Never install a mirror behind a sofa since that implies too much vibrant energy, bouncing back towards your head, and that's never a good thing.
Consider where you're placing the mirror and make sure that it reflects more of what you want to see. It could be a beautiful landscape, and it could be more lighting, just anything that inspires you
Tall Book Case
Make use of all of that vertical wall space with a tall bookcase. The taller, the better.
Upper closed cabinets on the bottom to hide clutter while displaying pretty pieces of top. You could also use a tall bookcase as a privacy divider between the bedroom and the living space,
storage needs are always lacking in a small area, and a tall bookcase is a perfect solution.
An area rug helps pull it all together, and to find your seating group
remembers my cardinal rule for an area rug, by the largest that you can afford the most extensive size area rug that is perfectly scaled.
For space can also be used in multiple ways, in various spaces, and will undoubtedly have durability when you relocate coming from home to home.
The more crucial it's to develop and work in mind, from studio apartments to even those tiny little corners in your home.
Small spaces have significant potential to help you live a more stylish and functional life.
This small space series aims to help you make the most of your square footage with good design and great functionality.